From Tide To Tin
Take The Tide With You
We harvest at the peak of the season and let our smoking and seasoning practices preserve the freshness for you.
Shop Now
Handcrafted in the Pacific Northwest
Shop All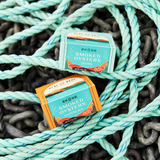 From Tide to tin
At Ekone, our shellfish is loved right from our hatchery and carefully harvested, smoked, and hand-packed at our family cannery just upshore. Our wild-caught fish comes from friends, like local tribes and small Northwest fishermen.
Every time you pop a tin of Ekone, you enjoy this sustainable and truly traceable seafood.
More About Us
"Ekone Canned Smoked Oysters"
I am addicted to these oysters!!!! These are the best canned smoked oysters...they are a perfect size, great firm texture, they taste great and finish very fresh/clean and best of all they are perfectly packed with just the right amount of oil. Most other canned oysters I have tried are very mushy, extremely oily and do not have the great flavor Ekone has. I also like knowing where the oysters are sourced. I highly recommend these canned oysters.

- D Law
"Habanero Smoked Oysters"
These are the best smoked oysters I have eaten! Perfect blend of smoky flavor with a heat follow up. Big meaty oysters with minimal oils. I wanted a straw to get every last drop from the can.
- Kevin M.
"Albacore tuna"
After many decades of buying what we thought to be quality tuna we purchased yours! Tastes like my hubby just caught a fresh tuna! He thought quality cuts rather than bits of tuna. Thank you for your excellent product!
- Gayle V
"Darn good"
I love the smoked oysters so much I decided to try the smoked Mussels. They very good and light tasting. I ordered ten cans the same time I ordered ten cans of the oysters. Now I have to go eny mini miney mo to see which I'll eat this time, and that's a good problem to have.
- Tim
"Ekone Octopus"
I don't know if I have the vocabulary to express how wonderful this product is. 1,000 stars I love the taste and texture and will be purchasing more as time goes by. Thank you for a super product.
- Robert G.
"The Ekone Suite"
This is a great gift! My husband & son share a birthday and I made them both a basket full of your items. They loved them!
- Desi D
Stay connected
Sign up and be the first to know about promotions, special events and any updates!
Wholesale
Interested in selling our tinned goods at your shop or using them in your restaurant? Sign up for a wholesale account.
Learn More